Ease of Transport with Open Race Trailers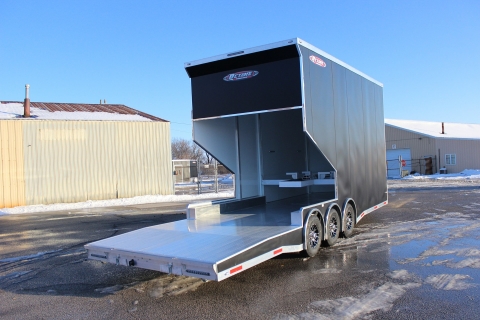 When it comes to transporting your motor vehicle, you want the best trailer for your needs, and an open race trailer from Octane Trailers can give you the ease of transport that you need for those shorter trips. Every trailer manufactured by Octane Trailers is customized to your specifications, meaning your open trailer can fit your vehicles perfectly while having the add-ons that you need.
Open gives a better drive
When pulling an open race trailer as opposed to an enclosed one, you get less wind resistance, meaning your drive will be smoother. Depending on where you live, windy conditions may be prevalent, so, when you need the trailer that will get you to the track without too much win resistance, a custom open trailer from Octane trailers is the perfect solution. As a lighter trailer option that is more maneuverable compared to enclosed trailers, open trailers are the best option for shorter trips involving mild weather.
Less materials means less cost
Not only are open trailers a smoother ride, but they will typically come at a lower cost than an enclosed trailer as well. Since they aren't using as much material around the upper-back section of the trailer, you can save money and get a lighter trailer that's easy to maneuver. Supplies and parts for your vehicle can add up quick, and as a cheaper, dependable option, the open race trailers from Octane Trailers are the transportation vessel you can count on.
Show off your vehicle
When the weather permits you to use your open race trailer safely, you get an easier ride that is guaranteed to impress. People will do a double-take when they get to see your cool-looking vehicle on your trailer as you travel. By piquing the interest of passerby's, you can gain popularity for your vehicle and feel pride in the equipment your carrying.
Here at Octane Trailers, we care about our quality of products as well as our quality of service. Every custom trailer is made to your specifications, extras and all, so you can get the trailer of your dreams.