Enclosed Trailers Keep Out the Elements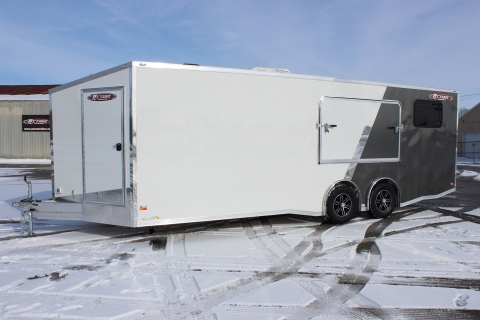 As we get further into the winter season, snowfall keeps picking up more and more, and you can protect all you need to with enclosed trailers from Octane Trailers. Depending on what hardware you're transporting, you want to make sure that if it's some of your pricier equipment that it's taken care of properly. By investing in a custom enclosed trailer from Octane Trailers, you can not only protect your gear, but also get the perfect design to hold all you need.
Strong framing
Every custom enclosed trailer from Octane Trailers features a dependable aluminum tube perimeter frame. This design is the tried and true method of making trailers that Octane Trailers uses to seal every trailer, so you know that nothing, from snow to rain, will get through.
Safety with versatility
Not only will your enclosed trailer keep your equipment safe, but it can also be customized to make sure that your trailer gives you the proper storage space and accessories inside that you need. From D-rings in the base of the trailer to storage cabinets and cupboards, you can transport almost any recreational vehicle and keep the tools you need for them all in one place, without worry.
Built for the outdoors
Every cargo trailer of our enclosed trailers comes with 12v wiring for the clearance and tail lights that is hidden and protected from the elements. Built to be on the road, the enclosed trailers from Octane Trailers guarantee that your trailer and all its components function at 100% and won't give out simply because of some rain or snow.
Octane Trailers has the custom trailer designs and supplies that you need when on the long-haul. From color to shape, our professional team can craft you the perfect trailer you've been looking for.