Fit It All This Labor Day with a Stacker Trailer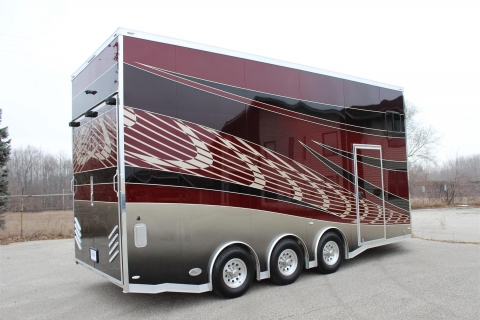 With the custom trailer designs at Octane Trailers, your options for stacker trailers are practically unlimited. As with all our trailer designs, we personalize our stacker trailers to give them all the features that benefit you the most. As Labor Day approaches, people are getting ready to take trips all over on their long weekend, and with one of our trailers, you can too while keeping your vehicles safer than ever before.
Get to the track with everything in tow
Thanks to the spacious interiors of our stacker trailers, you can carry everything with you on a single trip to the races. Whether you're a pit crew member or team manager, if you're part of a racing team and need a way to transport everything for your Labor Day race weekend in one unit, then our stacker trailers are the way to go.
Personalize your look
We offer custom paint jobs for all the custom-made trailers that we manufacture. Whether you need your racing team's colors, a color for your business, or simply a color preference, your stacker trailer can be outfitted with custom paint to make your trailer shine. We have designed trailers of all kinds from frame to paint, so you can be sure that your final design will meet your expectations.
Strength and dependability
With the all-aluminum tube perimeter frame on every stacker trailer, you know that while you're on the road this Labor Day that everything inside your trailers is kept secure and safe. Protected from the elements and protected from any damage, your vehicles can travel in safety while travelling in style.
From the outer frame down the last electrical wire, all custom trailers manufactured by Octane Trailers offer you the durability and longevity you need in a transportation trailer. Our craftsman pay attention to every detail to make sure your trailer is everything you could have hoped for.