Get on the Road This Summer with a Motorcycle Trailer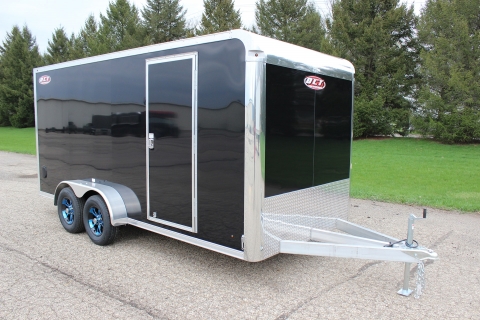 With warmer weather arriving, it's time to get your bike out in a motorcycle trailer so you can get to riding. We have plenty of holidays throughout summer that give us the opportunity to spend free time doing what we love, and we at Octane Trailers want you to be able to bring your bike with you for a summer ride wherever you go. With our high-quality motorcycle trailers, you'll never need to worry about another way to transport them ever again.
Customization is our specialty
When you get a motorcycle trailer from Octane Trailers, you are not only getting a sturdy, master-crafted trailer, but you are getting one that fits your personal tastes as well.  With our equipment and experience, we will craft your trailer exactly to your specifications, so your trailer fits your needs. From added windows to awnings, we've made customized trailers to please all our customers. You also have the option of flat nose or v-nosed trailers, in case you need extra space for cabinets or just more breathing room.
Hold your bike steady
Obviously, the whole point of getting a motorcycle trailer is to protect your bike, and with Octane Trailers, bike safety is something you'll never have to worry about again. The all-aluminum tube perimeter frame on each of our motorcycle trailers gives your trailer a strong exterior to keep your bike out of harm's way. Each trailer also contains 8 recessed D-rings with 2 removable wheel chocks, so whether you're transporting a single bike or a pair of bikes, you get to place them where you want to maximize efficient use of trailer space and maneuverability.
Octane Trailers crafts top-of-the-line custom trailers that will suit your every need and last a lifetime. No matter what style of trailer you decide on, Octane Trailers will craft it with care and quality every time.