Get the Best Protection with an Enclosed Trailer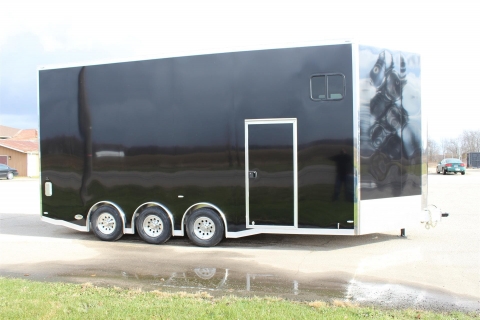 While you are out on the road this summer transporting a race car, motorcycle, vintage car, or any other motor vehicle, you'll want to protect it the best way you can: with an enclosed trailer from Octane Trailers. Made with the best materials and finest craftsmanship, Octane trailers will keep your cargo safe no matter what conditions you drive through.
Different models, different benefits
Depending on which enclosed trailer you decide on, there are different features that you can choose from to make sure your trailer fits your needs. One big difference to consider is whether you want a flat front or v-nosed front trailer. A flat trailer is the "standard" option that many opt for, but if you want that little extra bit of space for a toolbox, shelves, or any other accessories, then the v-nosed trailer option is for you.
Gooseneck vs. regular
If you need to move weight away from your bumper and redistribute it instead to your rear axle, then a gooseneck trailer is how you'll want to drive your cargo around. With increased length, gooseneck trailers allow for more to be put inside of them. They also offer a tighter turning radius for your vehicle. However, they can only be used with a truck, so if you have any other vehicle transporting an enclosed trailer, then a standard trailer will work for you.
Weather tight
With a master-crafted aluminum frame, our enclosed trailers can withstand any weather you may encounter on the road, or while your trailer is stationary. Our craftsmen have years of experience crafting enclosed trailers for the people who use them the most, meaning you'll get the best possible custom trailer for your unique needs.
At Octane Trailers, we're passionate about designing and crafting custom trailers for all our clients. No matter what style you choose, you'll get a quality trailer that perfectly fits your need.