Take Control of Your Drive with a Gooseneck Trailer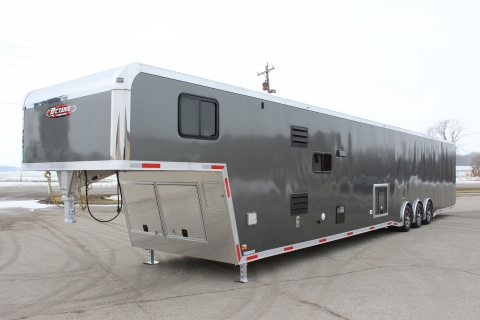 If you're frequently on the road and hauling equipment, horses and livestock, or anything that is heavier than your usual load, a gooseneck trailer is the way to go. When it comes to making the long haul, Octane Custom Trailers crafts the finest trailers in southwest Michigan, and our gooseneck trailers are no different. With the same sleek design and master craftsmanship we put into all our trailers, our gooseneck trailers will help you make the trip in style and with ease.
Stability for your haul
You may be wondering why you would choose a gooseneck trailer over one of our other designs, and one simple answer is the stability that they offer. Our gooseneck trailers help move the weight of your load off your bumper and over the rear axle of your vehicle, centering the weight to be manage more easily. With the added stability, gooseneck trailers allow you to carry more weight in your trailer and won't be affected as much by wind sway.
A spacious interior
Because of the point of attachment to your vehicle lies over the rear axle compared to the bumper, gooseneck trailers also offer more space inside. Their stability and efficiency at handling higher weight loads allows them to not just carry more but gives you more room to work with as well.
Make the tight turns
Depending on where your haul takes you, you may find yourself needing to make sharp turns with your trailers. Thanks to the design of gooseneck trailers, they offer a higher turning radius than other trailers do. Obviously, this will be affected by the trailer's length and width as well, but compared to bumper trailers, gooseneck trailers largely offer a larger turning radius, giving you the maneuverability that you need when making your haul.
If you need a customized, quality trailer, then Octane Custom Trailers has the options you need. With attention to detail and a passion for delivering personalized trailer solutions, Octane Custom Trailers makes your trailer ideas a reality.