Transport Your Snowmobile Safely Using a Custom Trailer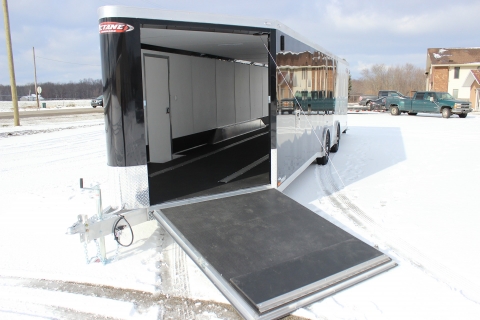 As we get more and more snow on the ground this winter season, you may be more in need of a quality custom trailer to transport your snowmobile. With plenty of trails and roads to explore during winter, a custom trailer from Octane Trailers can give you the perfect method of bringing along a snowmobile safely, without worry. All made according to your specifications, the trailers made by Octane Trailers are sure to satisfy your travelling needs.
Cover from snow
When making a custom trailer from Octane Trailers, you can guarantee that your snowmobile stays free from the elements while on the road. By making your trailer enclosed, your snowmobile and any other gear you put inside your trailer will be kept safe. No matter your size or style, the all-aluminum tube perimeter frame will protect everything inside, and stay free of leaks.
The space you need
You have plenty of options for sizes of your trailers, and, depending on your needs, you can have the space you need to load your snowmobile custom trailer from wide or long space to fit multiple snowmobiles, or space for cabinets, tools, and other accessories, there's space for everything you need. No matter what design you choose, your design will have the space necessary for your trips every time.
Built for you
The best part of building a custom trailer through Octane Trailers is that every part of it is made to your specifications. From the color to the entryways into it, your trailer is tailor-made to work best for you. With an angled or flat nose, you can get an extra bit of space, or fit in shelves. An RV-style door may be added to the side, or even another entire loading door. No matter what you need, Octane Trailers is here to help with your design.
If you need a trailer designed to your needs, a custom trailer from Octane Trailers is the way to go. With a history of satisfied customers and an experienced team, we can help you design your dream trailer today.